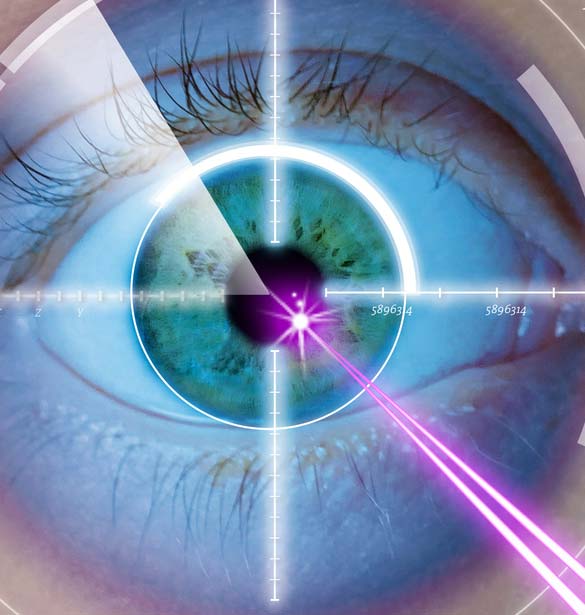 If you're tired of wearing glasses or contacts, you can get vision-correcting surgery, as long as you're in pretty good health with no other medical eye issues. It's time to finally get LASIK surgery to give you 20/20 vision. The American Refractive Surgery Council reports that you have a 90 percent chance of achieving perfect vision and 99 percent odds of at least 20/40 results. It's such a simple, quick and effective procedure, especially when you put your trust in the hands of the eye experts at the Medex Diagnostic and Treatment Center in Queens, NY. Call today to find out if you qualify for LASIK surgery.
LASIK eye surgery is a form of laser refractive surgery done to correct vision problems. The cornea or outer layer of the eye is reshaped during this procedure to properly focus the light that enters the eye on the retina. The procedure dramatically improves your vision. If you're a candidate for LASIK eye surgery, there's an excellent chance that you'll enjoy clear vision without glasses or contact lenses.
Once your ophthalmologist has determined that you're a good fit for this vision-correcting surgery, you can expect great long-term results. To find out whether LASIK eye surgery is the best choice for you, visit the expert ophthalmologists at the Medex Diagnostic and Treatment Center in Queens, New York.
What Conditions Does LASIK Eye Surgery Treat?
LASIK eye surgery permanently changes the shape of the cornea to improve your vision. The procedure is often used to correct several vision problems, including:
Myopia. Also known as nearsightedness, myopia is a condition that allows you to see what's close to you, but causes you to struggle to see things that are far away. With nearsightedness, the eyeball is slightly longer or deeper than normal.
Hyperopia. Also known as farsightedness, hyperopia makes it difficult for you to see things that are nearby. When you have this condition, the eyeball is shorter or shallower than average. Another cause of hyperopia is that your cornea is too flat.
Astigmatism. This condition occurs when the cornea is irregularly shaped. It may curve or flatten too much, affecting either near or distance vision.
Presbyopia is an age-related condition. When you have presbyopia, it becomes increasingly difficult to see items up close. This condition occurs in most people after age 40. LASIK eye surgery can't correct your vision to see both near and far, but it can be done to allow one eye to see far and one eye to see near. This variation is called monovision LASIK.
How LASIK Surgery Works
LASIK eye surgery is an outpatient procedure that's completely painless. If you need surgery in both eyes, they can be done on the same day. This is called a bilateral LASIK procedure. The procedure typically takes 10 to 30 minutes per eye.
Before the surgery, you're seated in a reclining chair. Your eye surgeon puts numbing drops in your eye to prevent discomfort. An instrument called a lid speculum is used to hold your eye open.
The ophthalmic surgeon uses a laser to cut a small flap in the outermost cornea of your eye and folds it back to reveal the stroma. A second laser sends pulses of light to the cornea and painlessly reshapes it. Your eye doctor folds back the flap, which heals without stitches. If you're having both eyes done, your doctor repeats the process on the second eye.

You may feel a slight itching or burning sensation. You won't be able to drive home. Most people notice a difference in vision within a few hours after the procedure.

The Benefits of LASIK Eye Surgery
LASIK eye surgery is a safe procedure that's done quickly. The success rate for this procedure is very high, over 90 percent, but you should discuss any concerns you have with your Medex ophthalmologist before you decide to go through with the surgery.
The majority of people who have LASIK eye surgery don't require glasses or contacts once the procedure is done. You may still require reading glasses after you turn 40. You get the best and safest results when you rely on the experience and high standards of care provided by your ophthalmologist at the Medex Diagnostic and Treatment Center. Risks are rare, but include:
Under-correction, which often just requires another procedure. This outcome is more common when treating nearsightedness.
Dry eyes, a temporary effect that you treat with eye drops.
Double vision, halos or glare that rarely lasts more than a couple days.
Is LASIK Eye Surgery Right for You?
To be considered for LASIK surgery, you must be at least 18 years old, in good health and not pregnant or breast feeding. You'll need a comprehensive eye exam to ensure that your eyes are healthy and there's no history of chronic dry eye, glaucoma or cataracts. Your Queens ophthalmologist uses the results of your eye exam to determine if you're a good candidate for this procedure.
For expert care of your eyes, contact the Medex Diagnostic and Treatment Center. In addition to eye care, Medex offers health and medical care from experts in multiple fields, including dermatology, endocrinology, primary care, cardiology and much more. Visit this practice for all your health care needs.